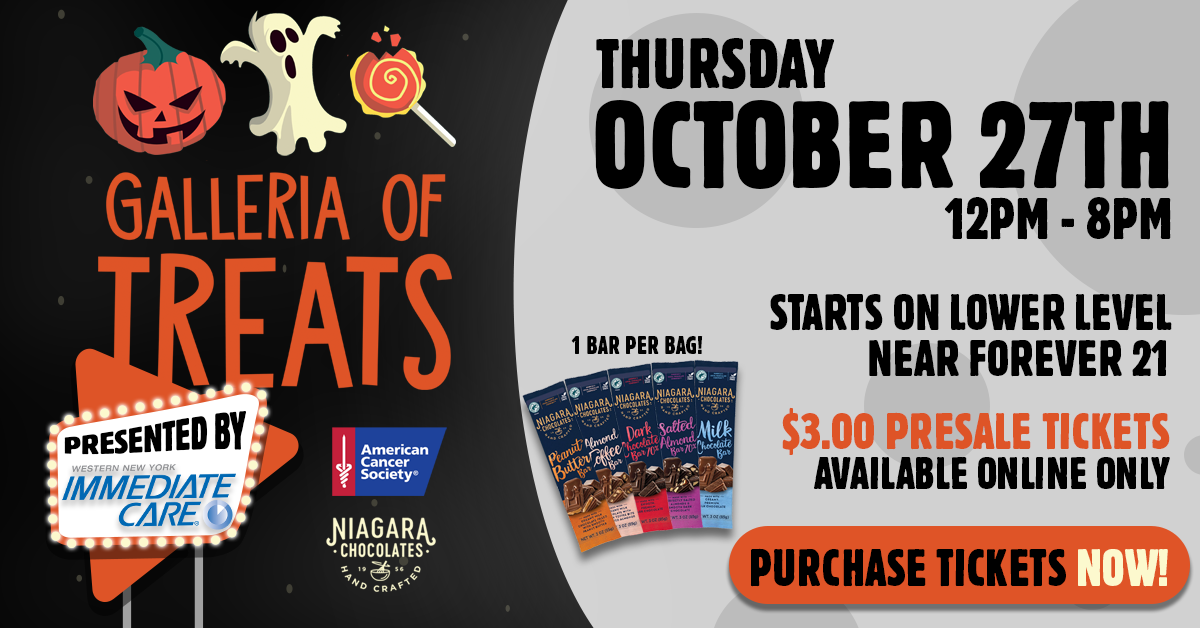 Walden Galleria's annual family-friendly, indoor trick-or-treating event is returning for its 28th consecutive year! Galleria of Treats, presented by WNY Immediate Care, will be held on Thursday, October 27th from 12:00 p.m. noon until 8:00 p.m. on the lower level beginning near Forever 21. This year's trick-or-treating event is also made possible in part by Niagara Chocolates, the official candy sponsor of Galleria of Treats.

Children of all ages and families can enjoy a fun-filled day of Halloween activities with dozens of trick-or-treating tables to visit and build their candy collection. Each trick-or-treater will also receive one full-sized Niagara Chocolates chocolate bar! Galleria of Treats is held each year, in partnership with Walden Galleria and the American Cancer Society of Western New York, as a safe alternative to neighborhood trick-or-treating.
Ticket Information:
Skip the line and get your tickets ahead of time! $3.00 Presale VIP Tickets are ON SALE now through October 26th until 11:59am. These tickets are purchased at various two-hour timeslots throughout the duration of the event.
Day-of event tickets will be available on October 27th for $5.00 at-the-door or online.
*All ticket sales and proceeds benefit the American Cancer Society of Western New York.
For more information regarding Galleria of Treats, please contact Walden Galleria at 716-681-7600 x0 or Joe LaVare with American Cancer Society at [email protected].