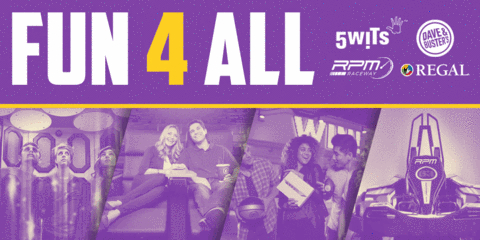 Fun 4 All: Entertainment in Buffalo & Western New York
September 19, 2017

|

IN What's Happening
Fun 4 All at Walden Galleria: your destination for fun activities and entertainment in Buffalo and Western New York!
If you're looking for thrills, action, and a good time, you've found it here! Our entertainment destinations are unparalleled for fun. No matter your age, Walden Galleria has it ALL.
5 Wits 
Immersive adventure entertainment that puts you into a real life video game. There are three adventures where you can be your own action hero!
Tomb: takes you through an Egyptian Pharaoh's final resting place. In the tomb you have to play his games to get out alive. With only a flashlight to accompany you, you'll be tested on your skills to outsmart someone of ancient age!
Deep Space: teleport to an abandoned starship that is sending a distress signal. Find out what happened and try to get back safely! You'll battle an asteroid storm, rewire engines, and fight off Artificial Intelligence!
Drago's Castle: Enter Drago's Castle to save the princess by recapturing the dragon that has escaped! Solve ancient riddles, discover secret passageways and try to get your storybook ending!
Adventures at 5 Wits are 1 for $19.99 or 2 for $24.99.
RPM Raceway
Helmets on and buckle up, it's time to race! Rev-up your engine and drive go-karts that introduce you to the craft of real racing. You'll spin, drift, and speed on tracks designed just like the speedways. The thrill alone will keep you coming back for more. Chase that high-RPM experience, and Let's Race at RPM Raceway!
Regal Cinemas 
Get the real deal movie experience at Regal Cinemas. With butt-kicker reclining seats, reserved stadium seating, surround sound, and a dedicated RPX (Regal Premium Experience) theater for more intense action movies! You'll be taken away to another world as soon as you sit down. Regal Cinemas offers 25% OFF candy every Monday and 50% OFF popcorn every Tuesday for Regal Members!
Dave & Buster's 
From air hockey to skee-ball to a game of knock-out you can truly be a kid, or be a kid again, at Dave & Buster's. Eat & drink, play games, or watch sports. At the million-dollar-midway there's a mix of classic games and new fan faves: bust ghosts, crush candy, or battle the stars all in one place as D&B! Signature dishes and cocktails so delicious and fun it will make you want to stay and catch a game. With 360 degree views, no matter where you're seated, you're in the best seat in the house. Enjoy 2 for Tuesdays and 1/2 Price Games on Wednesdays! We'll also slide you a $20 game play with purchase here.
For the Tykes: fun for the little ones is included too!
Billy Beez
The kid's choice for fun! Come see what all the buzz is about at Billy Beez! Find tunnels, wild slides, not-your-average ball pits, sports courts, and a mini beez section, there is plenty to explore in this jungle-themed play park for kids! Ages zero and up can play!
Build-A-Bear
Step into the world of wonder where everyday life fades away. At Build-A-Bear workshop, you'll be inspired to create your own best friend and bring them to life! Start with the stuffing station, add a heart beat, and dress 'em for all the fun with your new furry friend. Enjoy the memories you'll make here!
5 Wits, RPM Raceway, and Regal Cinemas are all located on the upper level nearest our 5 Level parking ramp and Galleria Drive. Dave & Buster's is located on the lower level near Restaurant Row. Billy Beez and Build-A-Bear are located on the upper level near the Food Court and JCPenney, respectively.