This New Year's Eve, The Melting Pot is offering a five-course prix-fixe New Year's Eve menu. Please note, this will be the only menu available on New Year's Eve from 3pm – 11pm. 
Call 716-685-6358 for reservations or CLICK HERE TO BOOK ONLINE, credit card required.
 Lunch  | 4-Courses | 12:00pm – 2:30pm | $50 Per Adult 
Dinner | 5-Courses | 3:00pm – 11:00pm | $70 Per Adult
Every couple will also receive a $25 Dip Certificate for a future visit and a complimentary champagne toast. Tax and 20% gratuity will be automatically added to every bill.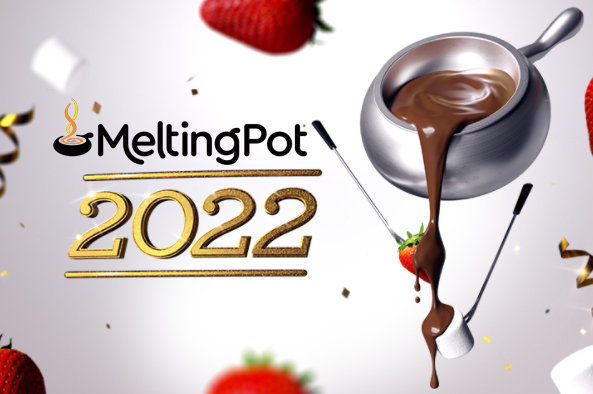 New Year's Eve Five-Course Menu: 
Starter:
Tomato Basil Bruschetta
Cheese Fondue:
Loaded Baked Potato Cheddar or Spinach Artichoke
Salad:
California or Wisconsin Wedge
Choice of Entree:
All entrees will be served with an assortment of fresh vegetables and sauces.
Indulgence: 
Lobster Tail, Filet Mignon, Cajun Chicken, Teriyaki Sirloin, White Shrimp and Wild Mushroom Pasta
Feast:
Filet Mignon, Cajun Chicken, Teriyaki Sirloin, Garlic Pepper Sirloin, BBQ Pork, Chicken Potstickers and Wild Mushroom Pasta.
Chocolate Fondue: 
Choice of any Chocolate Fondue from our menu.
New Year's Eve Kid's Menu: (12 & Under) – $28 per child
Includes: Cheese Fondue, Kid's Entree and Chocolate Fondue.
Add some romance to your New Year's Eve!
A simple touch to create lasting memories.
Single Rose– $19.95 
Half Dozen– $29.95
Dozen Roses– $45.95
All New Year's Eve reservation will require a credit card to hold the reservation. We require a minimum of 48 hours notice for all cancellations or you will be billed for the full price of your meal.  No coupons, promotional offers, or Dip Certificates will be accepted on New Year's Eve.  As a courtesy to other reservations, please make sure to arrive on time, last reservations will only be held for 15 minutes.