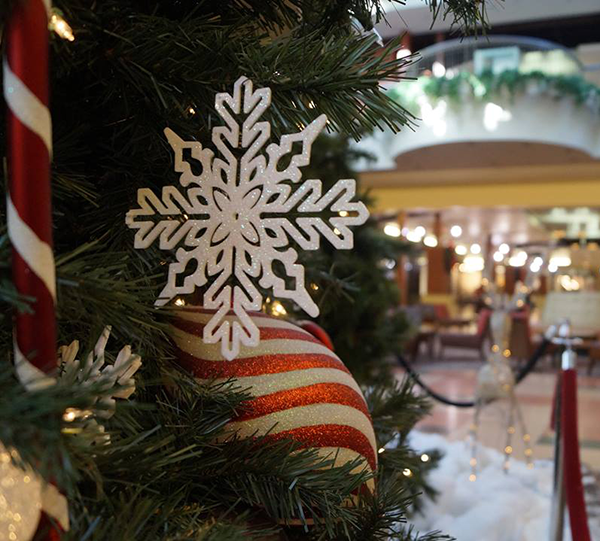 Visit with Santa
Santa Claus arrives at Walden Galleria on Saturday, November 11th at 10:00am!  The holiday season staple, donning his red velvet suit and white beard, will open up his fireside living room to the public. Children, families, and pets are invited by the jolly and joyous gift-giver to chat of their Christmas wishes and make memories to last a lifetime.
With decked out evergreen trees, a cozy fireplace, and presents scattered around, it's the perfect set up for a holiday card! Photo packages will be available starting Saturday, November 11th – Christmas Eve, December 24th, on the lower level between Apple and Clarks. Packages start at $24.99.
Santa Set hours for the season (November 11-December 24) are as follows:
Mondays – Thursdays: 11am – 8pm
Fridays – Saturdays: 10am – 8pm
Sundays: 11am – 6pm
Pet Photos –  Mondays & Tuesdays: 6pm – 8pm
Santa Cares Visitation
Special sensory environment for children and parents with special needs to visit Santa.
Sunday, November 19th & Sunday, December 3rd: 9AM – 11PM
Breakfast with Santa Events
Sunday, December 3rd: 8AM – 10:30AM at Bravo! Cucina Italiana
Call 716-684-4595 to make a reservation today!
Sunday, December 17th: 11am – 2pm at Dave & Buster's
Call 716-932-2515 or register online here!
Make the Most of your Visit with Santa
Want to be rockin' around the Christmas tree with Santa? We've got you covered! Here is the low down on taking a trip to the North Pole at Walden Galleria!
What should I bring?
Smiles, Sunday-Best, and your Christmas wish-list! He knows if you've been good or not! All you need to make the most of your visit is yourself and a little holiday magic!
How do I get there?
Our North Pole living room can be found on the lower level outside Apple and Clarks. The easiest parking access is through the 5-Level parking ramp outside Forever 21 or parking by DSW entrance.
5-Level Parking Ramp: Enter through the main mall entrance and take a left at the elevator. The set will be straight ahead.
DSW main mall entrance: Take the escalator down and the set will be to your right. Elevator is located outside of Regal Cinemas if needed.
When is Santa busy?
*Santa needs to take breaks every once in a while to feed the reindeer and keep them happy. Signs will be posted when Santa goes to feed the reindeer with the appropriate return time. Reindeer usually get fed between 3:30 and 4:30pm.
Who else visits Santa?
Children of all ages come to visit Santa! There may be long lines sometimes, please be aware that Santa will spend time with each child to make each visit a precious memory.
Pets are welcome to visit from 6-8pm on Mondays & Tuesdays.
Families with Special Needs that wish to come during our sensory-friendly events are welcome to visit on November 19th form 9-11am or December 3rd from 9-11am. RSVP HERE.