Lights, Camera, RECLINE! Guests can take the luxurious new King Size Recliners for a test drive!
Regal Entertainment Group (NYSE: RGC), a leading motion picture exhibitor owning and operating the largest theatre circuit in the United States, today announces that the Regal Walden Galleria Stadium 16 & RPX in Buffalo, NY is replacing all of the existing theatre seats with luxurious new recliners including footrests. During construction, Regal's King Size Recliners are on display in the lobby where guests can experience the added room and comfort that's coming soon. Regal Cinemas remains open during the remodel as portions of the facility are converted. All auditoriums will feature the new amenity in October.
"Regal is redefining the level of comfort at this theatre. Our guests will soon be able to stretch out, relax and recline while watching the movie," said Rob Del Moro, Chief Technical and Theatre Operations Officer at Regal Entertainment Group. "Regal constantly listens to our guests and looks for ways to improve. With this new concept, these luxurious recliners have scored extremely well. Moviegoers are eager to return for another visit and the opportunity to enjoy Regal's King Size Recliners."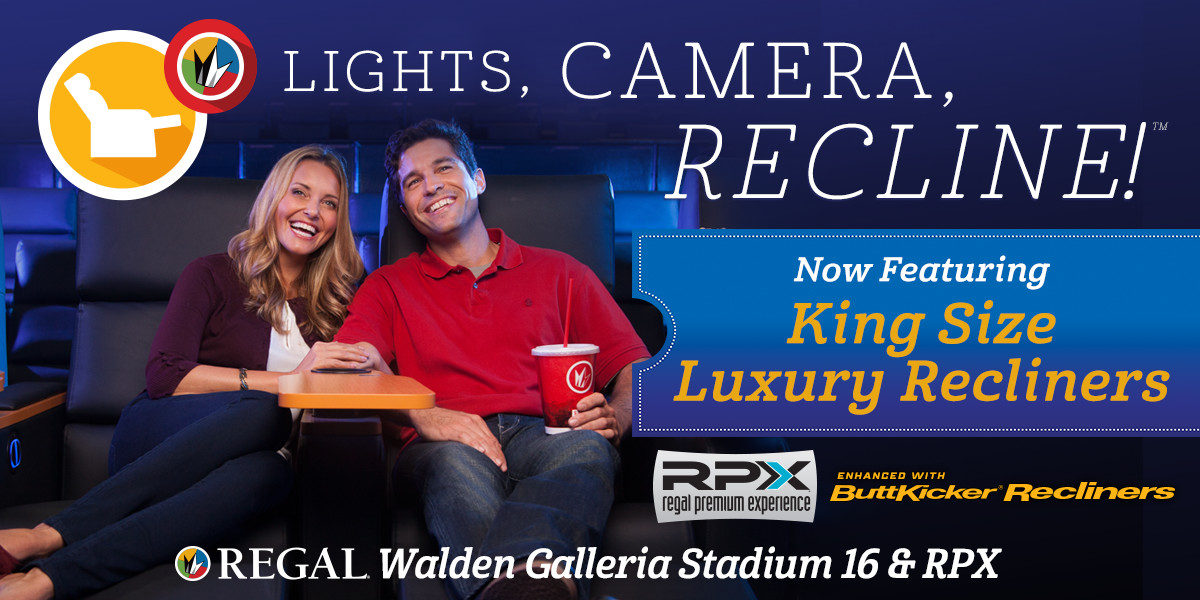 The experience of going out to the movies continues to evolve as Regal raises the bar. Recent upgrades to Regal Walden Galleria Stadium 16 & RPX include the conversion from celluloid film to digital cinema. Regal Entertainment Group is invested in providing amenities that further enhance the moviegoing experience. Now guests will enjoy more comfortable surroundings with the luxurious King Size Recliners able to adjust to multiple positions and including padded footrests.
"Once you take the luxurious new recliners for a test drive, you'll agree that the Regal King Size Recliner is a star attraction," stated Ken Thewes, Chief Marketing Officer at Regal Entertainment Group. "The spaciousness and comfort help you lose yourself in the story and become more immersed in the movie. This combination of comfort and a pristine presentation make for a remarkable trip to the movies."
Regal fans are encouraged to like Regal Cinemas' Facebook page and download the Regal Movies app. Moviegoers can program their favorite theatre and purchase tickets all from their mobile device. The Regal app also gives patrons the ability to upload their Regal Crown Club card straight to their phone for easy access while on-the-go. Through the industry-leading Regal Crown Club, 13-million patrons each year accumulate credits at the box office and concession stand to earn rewards including free popcorn, soft drinks and movies. Free membership is available at the box office or online at REGmovies.com/Crown-Club.
About Regal Entertainment Group:
Regal Entertainment Group (NYSE: RGC) operates one of the largest and most geographically diverse theatre circuits in the United States, consisting of 7,329 screens in 567 theatres in 42 states along with Guam, Saipan, American Samoa and the District of Columbia as of March 31, 2016. The Company operates theatres in 46 of the top 50 U.S. designated market areas. We believe that the size, reach and quality of the Company's theatre circuit not only provide its patrons with a convenient and enjoyable movie-going experience, but is also an exceptional platform to realize economies of scale in theatre operations.
Additional information is available on the Company's website at www.REGmovies.com.