Whether you've been naughty or nice this year, it's time to visit Santa at Walden Galleria! We're welcoming Santa Claus back to the shopping center this holiday season at his temporary home on the lower level near Apple! Children, families, and even pets are invited by the jolly and joyous gift-giver to whisper their Christmas to Santa Claus starting on Friday, November 18th until Christmas Eve, Saturday, December 24th. With decked out evergreen trees, a cozy fireplace, and presents scattered around, it's the perfect set up for a holiday card!

There will be plenty of fun and magic, as well as a focus on health and safety. Reservations are strongly encouraged for all guests, with walk-up visits available as space allows throughout the day. Photo packages start at $39.99, see pricing details below.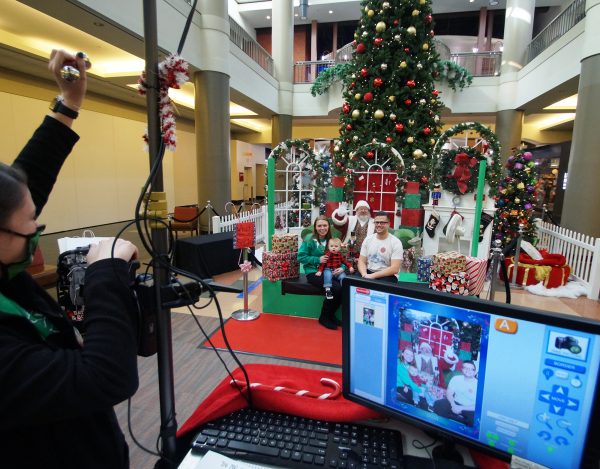 Want to skip the line? Sign up and reserve your special time to receive a fast pass! Reserve your spot HERE! 
Santa Set 2022 Dates & Hours:
Friday, November 18th until Saturday, December 24th 
Monday – Saturday: 11:00am – 7:00pm
Sunday: 12:00pm – 6:00pm
*Christmas Eve, Saturday, December 24th: 10:00am – 4:00pm
Special Hours & Events: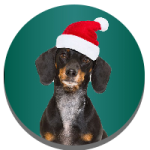 Pet Photo Nights – Mondays & Tuesdays (Nov. 28th – Dec. 13th)  – 5:00pm – 7:00pm – RSVP HERE! under "Pet Nights"
Bring your furry or not so furry friend(s) to take a picture with Santa! All pets must be on a leash.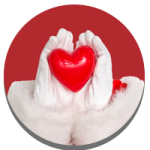 Santa Cares Visitation Event – Sunday, 12/4: 9:00am – 10:30am – RSVP HERE! under "Santa Cares"
Santa Cares is an event held exclusively for children with sensory disabilities. Held in partnership with Autism Speaks, Santa Cares takes place during off hours with low lighting and no music. Autism Speaks is dedicated to promoting solutions forth needs of individuals with autism and their families. Reservations are required for this private photo experience. We're collecting donations on behalf of Autism Speaks.
Photo Pricing: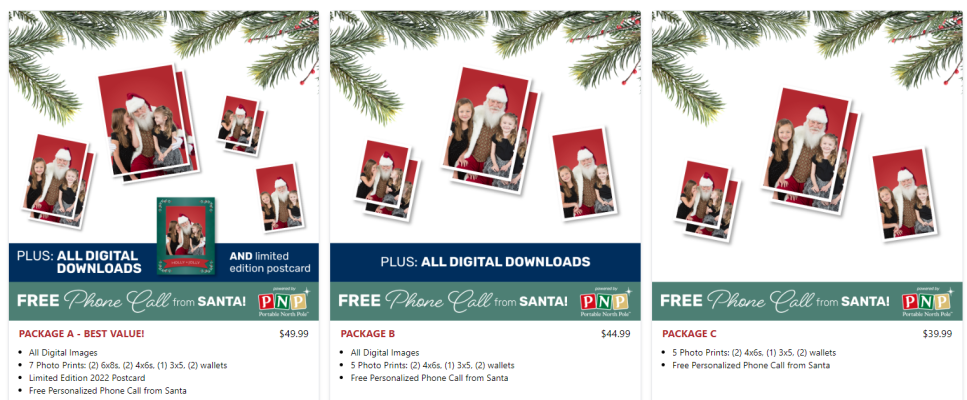 Santa FAQ
What do I bring?
Smiles, Sunday-Best, and your Christmas wish-list! He knows if you've been good or not! All you need to make the most of your visit is yourself and a little holiday magic!
Where is Santa?
Our North Pole living room can be found on the lower level outside Apple and Clarks. The easiest parking access is through the 5-Level parking ramp outside Forever 21 or parking by DSW entrance.
5-Level Parking Ramp: Enter through the main mall entrance and take a left at the elevator. The set will be straight ahead.
DSW main mall entrance: Take the escalator down and the set will be to your right. Elevator is located outside of Regal Cinemas if needed.
When is Santa busy?
Santa needs to take breaks every once in a while to feed the reindeer and keep them happy. Signs will be posted when Santa goes to feed the reindeer with the appropriate return time. Reindeer usually get fed between 2:00pm and 4:00pm.
About Your Visit With Santa
As we reopen our holiday experiences with Santa Claus at locations across the U.S. and Canada, we are eager to welcome back our Guests and seasonal associates with the health and well-being of all at the forefront of all our planning efforts.
In order to navigate this Christmas season responsibly, we have implemented a number of new safety measures based on guidance from health authorities, such as the Centers for Disease Control and Prevention (CDC) and appropriate government agencies. We, along with third-party host venues and shopping centers, are all committed to a responsible reopening of our Santa Claus experiences.
COVID-19 Warning
We have taken enhanced health and safety measures—for you, our Guests, and Associates. You must follow all posted instructions while visiting our Holiday Experience and our third-party host venues.
An inherent risk of exposure to COVID-19 exists in any public place where people are present. COVID-19 is an extremely contagious disease that can lead to severe illness and death. According to the Centers for Disease Control and Prevention, senior citizens and Guests with underlying medical conditions are especially vulnerable.
By visiting a Cherry Hill Programs experience, all Guests voluntarily assume all risks related to exposure to COVID-19. Help keep each other healthy.