On New Year's Eve, Bravo will be offering a two-course prix fixe menu, including one of the below entrees, along with your choice of soup/salad or petite dessert, starting at $23.95!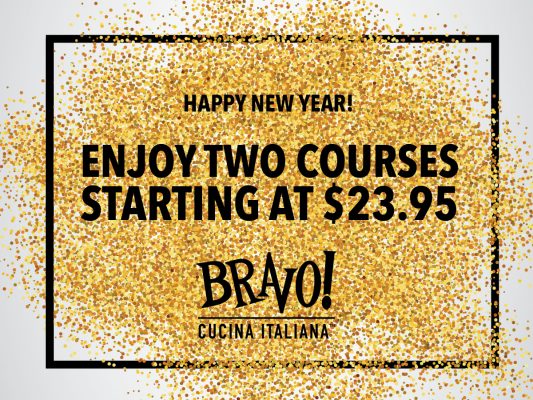 Entree – Choose one
Jumbo Stuffed Shrimp Scampi with fresh capellini,spinach, tomatoes and lemon butter sauce ($23.95)
Parmesan Crusted Beef Medallions with sweet potato, crispy fingerling and bacon hash and grilled asparagus ($28.95)
Crab & Shrimp Cakes served over Romano crusted tomatoes, with creamy horseradish drizzle and haricot vert ($252.95)
Soup & Salad – Choose one
Italian Wedding Soup
Lobster Bisque (+$1)
Bravo! Chopped Salad – chopped greens, cucumbers, red onions, tomatoes, olives, Feta, red wine vinaigrette
Caesar Classica with focaccia croutons
Insalata Della Casa – chopped greens, cucumbers, tomatoes, bacon, crispy pasta, Parmesan dressing
Or Dessert – Choose one
Chef Brittany's Cannoli Crumble – Bravo!'s twist on the traditional cannoli with sweet ricotta, chocolate chips, cannoli pastry crumble
Warm Chocolate Peanut Butter Brownie – Backed-to-order, rich chocolate brownie, peanut butter cream
Vanilla Bean Crème Brûlée – Vanilla bean custard with caramelized sugar crust
Bravo also offers select white and red wines, which perfectly pair with the seasonal dishes, including the highly recommended Sketchbook Cabernet Sauvignon (Mendocino, California) priced at $10.95 per glass/$40 per bottle and the Hess Shirtail Chardonnay, priced at $9.95 per glass/$38 per bottle. Call 716-684-4595 for details.