FYE is excited to announce that LP will officially be at FYE, for your entertainment, at Walden Galleria on Friday, June 2nd at 5:30pm! Stop by to see LP perform songs off her new album Lost on You for a close and personal fan experience. After the performance make sure to stick around to meet LP and get your copy of Lost on You signed by LP herself!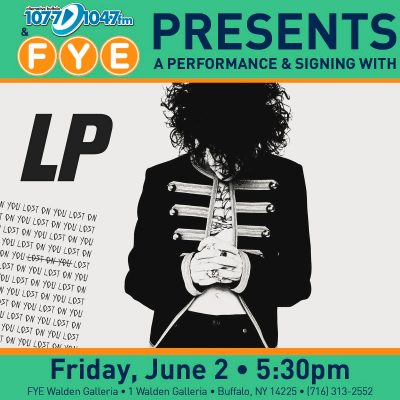 "Lost on You" was a highly anticipated album, following the global hit single "Lost on You". The song has over 50 million hits on Spotify, has reached #1 on charts in 15 different European countries and also became certified triple platinum in Italy. Although this song may have only recently brought the NYC artist into the music spotlight, she has been working in the industry for almost 15 years. Initially she began working on her solo career and eventually became a published and successful songwriter, writing songs for the likes of Cher, Rihanna and the Backstreet Boys.
Wristbands are required to attend this performance and album signing event. Wristbands will be available with the purchase of Lost on You from the FYE Music store in Walden Galleria. Any fan that previously purchased a wristband and album will be eligible to attend. LP will play a small set, meet her fans and sign copies of her new album during the event on Friday, June 2nd.
For more information, visit www.facebook.com/FYE or call (716) 313-2552.