FL!P Circus, the great American big top experience that has been wowing audiences across the country, is bringing its brand new 2023 tour to Buffalo! The all-new production, created by the Vazquez family, features an incredible assemblage of international acts that are guaranteed to amaze and amuse. The show will be featured at Walden Galleria from July 7th through July 16th located in the parking lot near the five-level parking ramp. Tickets are on sale now – click or tap below!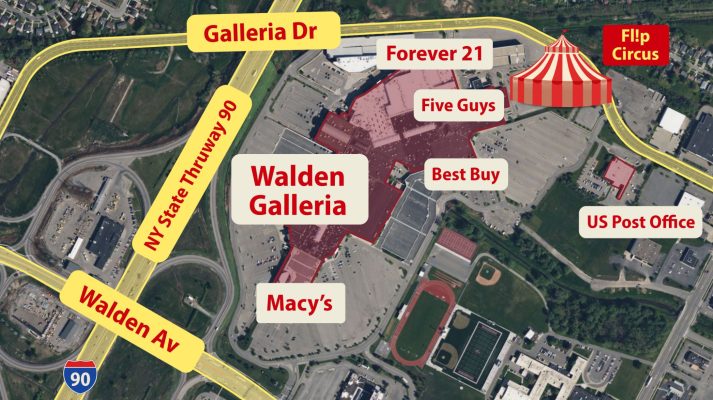 The high-energy show takes place under a distinctive red and white, 800-seat, climate-controlled big top tent with no seat more than 50 feet from the ring. The front row is so close that those sitting there often find themselves being brought into the ring to be part of the fun!
Ringmaster Arthur Figueroa serves as host of this new circus adventure. Audience favorites, Stiv and Roni Bello – Italy's "siblings of silliness" – return to weave their outrageous comedic antics throughout the show, which features a new international cast of circus stars. Carolina Vazquez from Mexico gracefully performs high above the audience on a single trapeze while Columbia's Duo Vanegas defy gravity, their own safety, and your expectations on the rotating Wheel of Steel.  The magnificent Bello Sisters from Italy, who amazed audiences on America's Got Talent, dazzle with their incredible body-bending, handstand skills. From the United States, the Super Tumblers present a fast-paced display of agile acrobatic dexterity. Direct from Ukraine, the Bingo Troupe presents a high-energy display of dance, acrobatics and unicycle that will fill the tent with their boundless exuberance. The entire production moves to the beat of the live FL!P Circus Band which provides the soundtrack to all the fun. Be sure to Fl!p your circus experience at this unforgettable live entertainment event you won't want to miss!
Show times are 7:30pm on weekdays and 1:00pm, 4:00pm and 7:00pm on Saturdays and Sundays. For tickets and additional information, please visit www.FlipCircus.com.