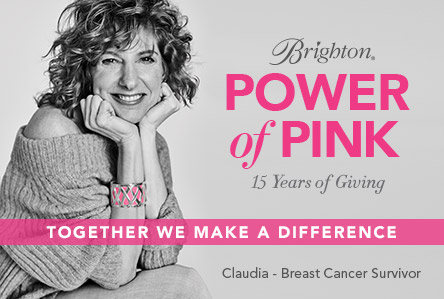 Together we make a difference – 15 Years of Giving
At Brighton, we have a deep commitment to giving back to the communities that surround our stores. Join us in funding the breast cancer research, prevention and treatment that means so much to families who are touched by this disease.
Our goal for this year's Power of Pink campaign is caring for and educating customers by holding events that help families who are facing breast cancer – connecting them with experts and raising money for hundreds of local breast cancer charities. The events also focus on reducing breast cancer risk through healthy lifestyle choices.
From September 29 through October 31, 2017 for each 2017 Power of Pink product purchased, Brighton will donate $10 to support the cause. We have 3 bracelet styles ranging from $45 to $78 plus a key fob, $40.
#BRIGHTONGIVESBACK
Visit your Brighton store for more details or brighton.com/powerofpink