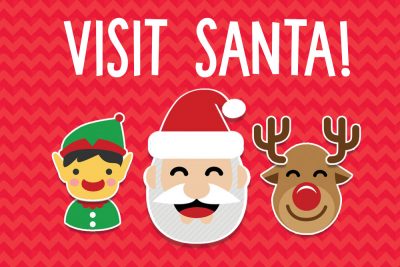 Santa Claus arrives at Walden Galleria on Saturday, November 10th at 10:00am!  Children, families, and pets are invited by the jolly and joyous gift-giver to chat of their Christmas wishes and make memories to last a lifetime.
With decked out evergreen trees, a cozy fireplace, and presents scattered around, it's the perfect set up for a holiday card! Photo packages will be available starting Saturday, November 10th – Monday, December 24th, on the lower level between Apple and Clarks. Packages start at $24.99.
Santa Set 2018 Hours (November 10-December 24):
Mondays – Thursdays: 11am – 8pm
Fridays – Saturdays: 10am – 8pm
Sundays: 12pm – 6pm
Pet Photo Nights –  Mondays & Tuesdays: 6pm – 8pm from November 12th until December 11th.
Santa Cares Visitation
Families with Special Needs that wish to come during our sensory-friendly events are welcome to visit Santa on Sunday, December 2nd and Sunday, December 9th!
Santa Photo Package Pricing