TYKE TUESDAY KIDS CLUB REGISTRATION - NOW CLOSED
*REGISTRATION IS NOW CLOSED*
Tyke Tuesdays is Walden Galleria's Kids Club! Enjoy free activities every Tuesday from July 11th through August 15th! Check in closes 30 minutes after start of event.
 While supplies last. Shirts and gift bags not guaranteed. All events and promotions subject to change without notice. Recommended for ages 12 and under. Management reserves all rights. 
SCHEDULE OF EVENTS:
July 25th: Lord & Taylor Zoo Carnival • 10am-12pm, Lord & Taylor Kids Section (upper level)
 Zoo-Mobile: find your new friends! Followed by Carnival Games, Balloon Artist & Face Painter Artist
August 1st*: Build-A-Bear Story Time & Bear Origami • 10am or 11am, Build-A-Bear (upper level)
Enjoy Story-Time, Build-An-Origami Bear, Party Games & Adventure Passport Activity! This event has 2 separate sessions. Session 1: 10AM-11AM. Session 2: 11am-12pm. During this event, we will also be having Paul Antonio Magician on stage at Lord & Taylor courtyard for any attendees after capacity!
 Due to capacity restrictions, maximum of 20 persons per session. Supplies and admittance on a first come, first serve basis. 
August 8th: U-Crest Fire Department • 10am-12pm, Outside Forever 21 & 5 Level Parking Deck 
Learn how to fight fires with U-Crest volunteers and special guest Fire Pup! Get suited up, hop on the truck and help put out that fire!
August 15th: Microsoft Store • 10am-12pm, Microsoft Court (lower level)
Paint 3-D, Xbox Gaming and Build a Robotic Finger!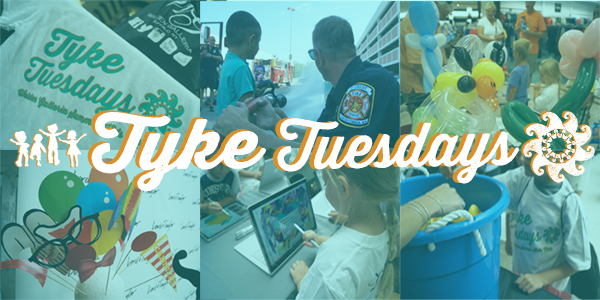 *We are saddened to inform our Tykes Tuesday club members that Wazi the Police Dog has passed away. We ask that you keep Wazi in your thoughts and prayers. Due to this unfortunate news, the event for August 1st has been changed from K-9 demonstration to Build-A-Bear. 
Please be aware, Walden Galleria photography will be on site.
Due to capacity limitations, REGISTRATION IS NOW CLOSED